---
We love cats just as much as anybody. That being said, we did a little shopping for some new cat products.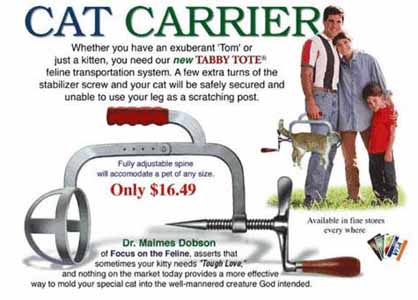 Have you ever thought to yourself "I sure do wish my cat looked more like a frog"? Well then, this is the place to you! Catprin offers the best outfits for your cat to make him feel pretty. Here is their official blurb:

CATPRIN, a tailor for cats. Ever imagined dressing up your lovely cat into a fabulous beauty? You don't have to dress her everyday, in fact she might not feel comfortable with a dress on for days. Just dress her up only on special occasions like her birthday, takes a photo and that should leave you lots of memories and fantasies.

And here are their instructions:

1. Dress her up. Cheer or yell, do whatever you like to enjoy the moment with your family.
2. After you are enough with your joy, take a photo! Take some poses and leave her some cute photos!
3. Remove her clothes and give her a hub, say "Thank you!"





staff out...
---
Previous News | The Ekaj Archives | Back to Main | Next News
---
Questions? Comments? Sugestions? E-mail the staff.